Joe Appenrodt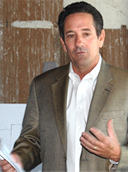 With over 35 years of experience in the commercial real estate industry, Joe has established the market knowledge and relationships to ensure successful transactions for his clients. Joe is especially adept at positioning properties to achieve maximum value.
Joe has developed many of the key retail, office and manufacturing sites throughout Santa Cruz County, including the New Leaf/Ingalls Street Winery complex, the adaptive reuse of the Sentinel Building and the Bay Federal/Starbucks retail center in Aptos. In 2015, Joe revitalized a historical building on River Street, Santa Cruz which is currently occupied by Dignity Health. Joe also played a prominent role in the development of the Aptos Village, which will be complete in 2025.
Prior to founding Appenrodt Commercial Properties, Joe was the president of Erik's DeliCafe which he helped grow to a successful 25-unit chain during his tenure.
In addition to his business endeavors, Appenrodt has been extremely active in the community and was chosen "Man of the Year" by the Aptos Chamber of Commerce. Additionally, he was past President of the Aptos Chamber of Commerce and the Santa Cruz Restaurant Association. Joe received his Masters in Organizational Behavior from the University of Southern California.
831.234.8554 cell
Contact Us